Introducing first.... From the red corner. Weighing very little... She hails from Allston Massachusetts, and was rated byus as the best former roommate of the last decade. With 52 cookie recipes, 38 of them containing chocolate, and only 4 with nuts. She is, the COOKIE CHAMPION OF THE WORLD,
MISSSSSSSSSSSS
REBELLLLLLLLLLLL
MELLLLLLLLLLLLLLLLLLLLLLLLL!!!!!!!!!!!!!!!!!!!!!!!!!!!!!
Meet Melissa our great friend who has graced our pages as a guest blogger.   Be sure to check out her amazing blog tweeded.com for some amazing cat and food photos (not combined!).
After my Google Reader exploded these past couple weeks with
Twelve Days of Cookies
posts, I decided I had to bake a batch of the cookies I saw most often;
You will need:


1 1/2 cups flour


1/2 cup unsweetened cocoa powder


1/2 teaspoon baking soda


1/2 cup white sugar 1/2 cup brown sugar-packed 1/2 cup unsalted butter-softened


1/4 cup peanut butter 1 teaspoon vanilla extract


1 egg


3/4 cup confectioners' sugar


3/4 cup peanut butter


Step One:
Preheat oven to 375 degrees.
Step Two:
In a small bowl, blend flour, cocoa, and baking soda. Set aside.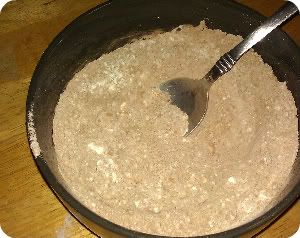 Step Three:
In a large bowl beat sugar, brown sugar, butter and 1/4 cup peanut butter, until light and fluffy. Beat in egg and vanilla. Stir in flour mixture until blended. Keep mixing, it will eventually come together.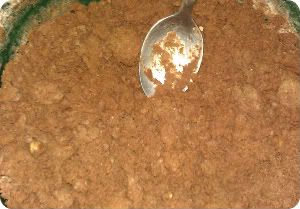 Step Four:
In a separate bowl blend confectioners sugar and peanut butter with an electric mixer. Roll into 30 balls using about one tablespoon each.
Step Five:
Form exterior part of cookie around the peanut butter balls, covering completely. Arrange 2 inches apart on an ungreased cookie sheet. Flatten with a glass dipped in sugar.
Step Six:
Bake 7 - 10 minutes. Allow to cool on a wire rack for ten minutes or until completely cool.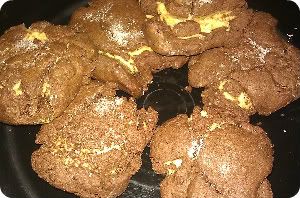 Step Seven: Nom.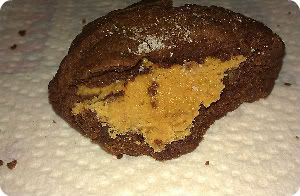 Step Eight:
Go check out Mike and Ally's recipe for
Peppermint Not-Oreos
over at my blog!
Happy Holidays!
Mel